A year or two after Hope for Haiti's Children initiated the child sponsorship program in 1995, my wife Betty and I decided we needed to sponsor a child of our own. After notifying HFHC of our interest, we were given the opportunity to sponsor a young boy living in the Dubuisson community, a two hour drive north of Port-au-Prince. Jean Civil was about eight years of age, living with relatives and attending school. Reports we received indicated Jean was in relatively good health and doing well in school. We were happy to have the opportunity to be a part of his life and in our small way through HFHC, offer ways to assist him.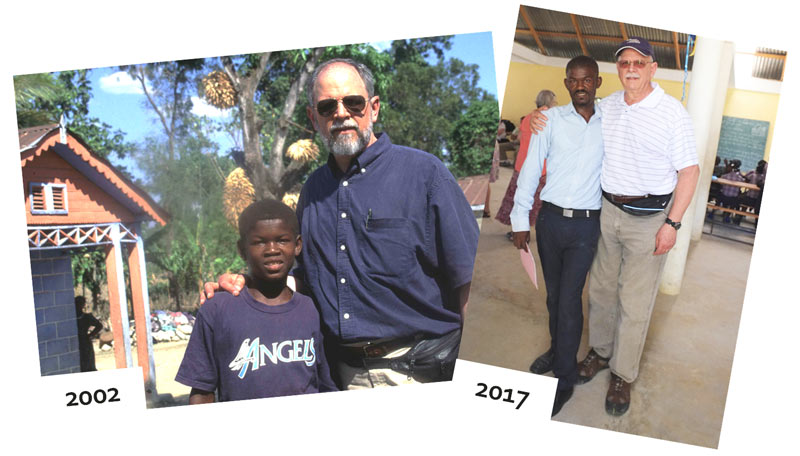 In 2002, as an HFHC Board member, I had my first opportunity to travel to Haiti. Visiting Dubuisson during that trip, I was blessed with the chance to see Jean face to face for the first time. (see picture) In subsequent trips to Haiti, I got to see Jean continue to grow and develop into a strong and healthy, well-educated young man. When Jean left the sponsorship program in 2009, Betty and I began sponsoring another young child. Seeing Jean's positive growth over the years, we felt confident about his future.
Continuing to travel to Haiti, I got to see Jean briefly and witnessed positive growth and his desire to succeed…thanking God that his future looked promising.
In November of 2016, the HFHC board and staff traveled to Haiti to be together with the Haiti staff for a wonderful week together. The meetings, of course, were a necessity — but the opportunity to visit the ten HFHC sponsored schools was the great blessing of our trip. When we visited the school at Dubuisson, all of the students were engaged in study as their teachers gave instruction. As I surveyed the room, I saw a familiar face. Our eyes met at the same time and a big smile came upon us both. Jean Civil was the 4th grade teacher in the Dubuisson Christion School! We walked toward each other and as he approachaed me, he spoke my name and my heart nearly jumped out of my chest.
Jean Civil had succeeded…breaking the pattern of so many young Haitian men. The Hope for Haiti's Children sponsorship program is and will continue to be filled with success stories of which this is just one…that fulfills God's love for the children of Haiti! It's all about the children, and they will capture your heart! Test those words and you will see what I mean!
Jean Civil teaching his 4th grade class at the Dubuisson Christian Elementary School (left)