Jeantyrard Elmera was my dear friend, my ministry partner for the past 27 years, and a hero of mine with the greatest faith in God that I have ever witnessed. Jesus told his followers in Mark 11:23 "I tell you the truth, if someone says to this mountain, 'Be lifted up and thrown into the sea,' and does not doubt in his heart but believes that what he says will happen, it will be done for him".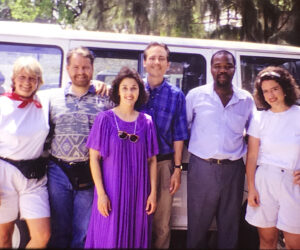 The first mountain Jeantyrard overcame were challenges when he was young. JT told me that he remembers having nothing to eat at times, sometimes eating boiled leaves to stave off the hunger pains. He remembers having no schoolbooks of his own for his early schooling and would handcopy pages from the books of other students. His mother passed away when he was four years old and his father practiced voodoo for a living. But JT did not let this mountain stop the great plans that God had in store for him.
Another mountain JT faced was early in his life was his desire to leave his steady job as a government statistician with the Haiti health department and become a full-time minister — preaching the good news of Jesus to his people, planting churches throughout Haiti, and helping these congregations reach out to the poor in their communities and plant other churches. And God removed this mountain. Thanks to the faithful support of Canadian and U.S. congregations – including the Britton Road church of Christ and Choctaw church of Christ — he became the senior minister at the Delmas 28 Eglise du Christ in 1989. The purchase of the Delmas church facility is an amazing faith story in and of itself. JT was able to write in 2014: "The church of Christ continues to thrive in Haiti in spite of rampant voodoo practices and denominationalism. The Delmas 28 church of Christ is now doing mission work in over 250 communities and helping 220 churches of Christ in Haiti and the Dominican Republic. Our aim is to save the lost, edify the church, and support widows and orphans. We thank God for what has been accomplished so far in this field."
JT's radio and TV ministry to proclaim God's Word encouraged thousands of listeners over the years. Additionally, JT worked with Greg Smith and The Haiti Fund to establish the accredited, 4-year Delmas School of Theology. To date, more than 120 ministers have been trained at the accredited Delmas School of Theology and are now caring for others and sharing the gospel of Jesus in their local communities.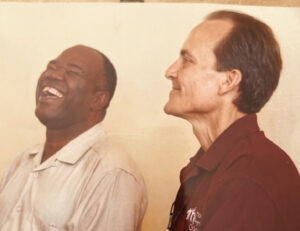 Another mountain was the need for orphan care. One area I had told the Lord we would not expand into with HFHC was orphan care. That mountain can't be moved! Be careful what you tell the Lord what mountain can't be moved! With so many children without mothers and relatives to care for them, JT urgently called for help to construct the Cazeau Christian Orphanage, which later grew to include the Thomazeau Christian Orphanage. And miraculously, the funds came and thanks to caring houseparents like Sonia and Jean Toussaint, these orphanages have become exemplary Christian leadership training homes.
Huge mountains which JT has had to face over the past 25 years have been Haiti's natural disasters. In 2004, Hurricane Ivan & Hurricane Jeanne struck causing flooding which killed 1,870 with 300,000 people displaced. In 2008, Tropical Storm Fay crossed the entire country followed by Hurricane Gustav, Hurricane Hanna, and Hurricane Ike. It triggered a deluge of water from the mountains which covered Gonaives with 10-foot of mud water, with animals and people with it, killing hundreds. And JT helped to organize relief efforts out of Delmas and HFHC for all those impacted.
On Jan. 12, 2010, Haiti was struck with a magnitude 7.0 earthquake, killing between 100,000 and 300,000 people and completely collapsing the Delmas 28 Church of Christ and Christian School building. It was one of the deadliest earthquakes ever recorded in history. Some wanted the church to be abandoned and not rebuilt. But JT's faith and courage rallied many Christians all over the world and it was rebuilt — double its original size and more stable.
In October 2012, Hurricane Sandy passed just west of Haiti, delivering heavy rainfall and more than 200,000 people were left homeless. In October of 2016, Hurricane Matthew hits Haiti with catastrophic flooding of up to 40 inches and storm surge of up to 10 feet. At least 580 people were killed and more than 35,000 left homeless by the storm. After all these events, JT helped to mobilize efforts to address those in greatest need.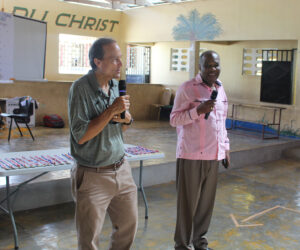 And finally in August of 2021, a magnitude 7.2 earthquake struck Southwestern Haiti causing major damages to homes and schools. An estimated 2,207 people were confirmed dead, while 344 remain missing, and over 12,000 left injured. It is the strongest earthquake to strike Haiti since 1842. JT helped to organize HFHC relief efforts — medical triage clinics, home construction teams, and recently completed the rebuilding of the school at Camp Perrin Christian School and Church.
Though I know there were many more mountains, JT faced, I want to close with the final one – his eyesight. Despite losing about 90% of his vision due to glaucoma, I never heard JT complain about this mountain or use it as an excuse. He did not let his physical eyesight keep him from clearing seeing what mountains God wanted to move.
I want to close with the words to this hymn which I believe encapsulate the awesome faith of my dear brother Jeantyrard and with the words I believe he would want us to take with us today as he is now tasting the bliss of an eternal home prepared for all the faithful:
O for a faith that will not shrink,
Though pressed by every foe,
That will not tremble on the brink
Of any earthly woe.
That will not murmur or complain
Beneath the chastening rod,
But, in the hour of grief or pain,
Will lean upon its God;
A faith that shines more bright and clear
When tempests rage without:
That when in danger knows no fear,
In darkness feels no doubt;
That bears, unmoved, the world's dread frown,
Nor heeds the scornful smile;
That seas of trouble cannot drown,
Nor Satan's arts beguile;
A faith that keeps the narrow way
Till life's last hour is fled,
And with a pure and heavenly ray
Lightens even a dying bed:
Lord, give us such a faith as this;
And then, what ever may come,
We'll taste, even now, the hallowed bliss
Of an eternal home.
There are no more mountains, brother. Welcome home!