Generosity of HFHC Supporters Helps to Feed Students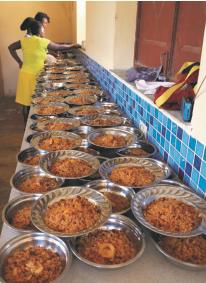 Throughout Haiti, hunger and malnutrition threaten to destroy the lives of children. Many children eat just one meal a day and if a school lunch is provided for them, this is likely their one meal.
Since 2013, HFHC has been grateful to receive thousands of pounds of highly fortified meals from organizations who are focused on hunger relief and from compassionate donors who contribute to the Food Fund.
This year, HFHC is thrilled to add a 4th school to our School Lunch Program. The Dubuisson Christian Elementary School educates 205 students from preschool through 9th grade. This year, a kitchen was built and pots, pans, bowls and a stove were all purchased to get ready for the new school year and for the launch of this vital program.
Now the big smiles of 1,016 kids are shared by their teachers who know the significant impact this will make in the classroom. A child's ability to focus and learn will increase, they will attend school regularly, and their health will improve!