"It's the most wonderful time of the year."
Do you agree? Most of us love this season. We appreciate the joy and happiness of the holidays.
But in Haiti, even during "the most wonderful time of the year," life is still full of despair and struggle, not joy. Currently, three out of every four children under age five are malnourished. In some areas, they eat dirt cookies to keep down the hunger pains. And gang violence and cholera are disrupting life even more. This is  true of a country less than a 2-hour flight from Miami.
You may be asking: Is change in Haiti possible?
As a boy, Wanky Massenat started at the Mirebalais Christian School and was sponsored through Hope for Haiti's Children. Wanky was a great student with outstanding character. After completing primary and secondary classes, he was able to enroll in medical school in the Dominican Republic. At 13, he was baptized and in his own words, "to this date I'm still a believer who believes that Jesus is the only Savior of this world." Today, Wanky is doing a fantastic job in medical school and God is shining brightly through him.
It's because of Wanky, and so many like him, that I'm writing you today.  Change in Haiti is possible AND you can be a part of the change!
HFHC exists for children like Wanky. We're passionate about seeing all Haitian children have the same opportunities for a Christian education, access to medical care, clean water to drink, food to eat, and Christian mentors.
But HFHC cannot do what it has done for Wanky and so many other children without generous partners like you!
Wanky said HFHC brought "complete transformation" and gave him a life "full of hope for a secure future."
As we think about Jesus during this season, consider a young woman's encounter with the angel, Gabriel. Gabriel told her she was going to give birth to a son.
She responded, "How will this be since I am a virgin?" Gabriel said the Holy Spirit would make it happen. Then he said, "For with God nothing will be impossible." Mary said, "I am the Lord's servant" (Luke 1:29-38). Later, she gave birth to the Savior.
Is change in Haiti possible? Can despairing children feel hope and joy? If a virgin can give birth to the Son of God, if walls can fall, if storms can be stilled, if a dead man can walk out of a tomb, then God can change Haiti!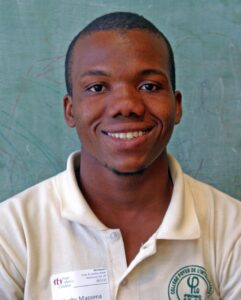 Wanky is proof of God making possible what seemed impossible.
Your continued financial partnership helps give the gift of possible to thousands of Haitian children and their families as HFHC seeks to be the presence of God in that country.

This holiday season, prayerfully consider giving the gift of possible. There's no greater gift you can give than an opportunity for a child to receive hope through Jesus. You can change the life a child!
May you experience the peace of the Savior this holiday season!
P.S. Thank you for your generosity and allowing God to work through you to make an eternal impact. Remember, nothing is impossible with God!
Written by: Rob Long, Development Director, Hope for Haiti's Children