Community Rejoices – Church & School Opens
Last October, category 5 Hurricane Matthew caused widespread destruction and over 500 deaths in Haiti. The eye of the storm passed over Haiti's western Tiburon Peninsula, causing significant damage to 80% of the homes and church facilities in the area. The Chambellan Christian School / Chambellan Eglise du Christ building was completely leveled as well as the home of the school principal and church pulpit minister Jereèl Pierre.
Through the generosity of HFHC donors and local Chambellan and Port-au-Prince volunteer construction workers, the church re-opened its doors on Sunday, June 18. What a blessing it was for us to join in the celebration for what God had done for this community!
On that morning, more than 500 packed the auditorium – including the city mayor. The walls reverberated with joyful singing as the congregation sung gospel favorites at the top of their lungs, including "When the Roll is Called Up Yonder" in Haitian Creole. Nine responded to the gospel call and were taken to the nearby river to be baptized. After services, we were treated to a parade on "Main Street" — featuring the school's color guard and flag brigade. Later that afternoon, Jeantyrard Elmera assisted with performing eight (yes, eight!) weddings in the building – to the delight of all those attending.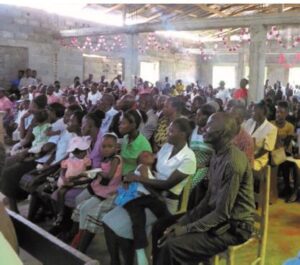 Standing room only for first Sunday service at rebuilt Chambellan Eglise du Christ facility