When the United Nations announced that Haiti was the most dangerous country in the world a few months ago, I sat down at my desk feeling despair. With gang wars, kidnappings, murder, and starvation being reported daily, we feared these challenges were getting closer to the children's doorsteps.
Many have asked some BIG questions…"Why even try to make a difference? How can you possibly serve the children in these conditions? Will it ever change?" As we constantly wrestle with the suffering we encounter, the answers to these questions are being revealed. Here is what we know.
Our Haitian team is strong and courageous. In 1995, Hope for Haiti's Children (HFHC) was founded as a grass-roots organization with an all-Haitian team carrying out the daily operations on the ground in Haiti. Today, we have over 150 Haitians who work for HFHC to serve the 3,000+ children enrolled in our 10 Christian schools. These employees wake up each morning committed to investing their time and talent to build Haiti's next generation of leaders. Whether they teach a class, drive a bus, cook rice and beans for lunch, care for a sick child, or keep our children safe, they each contribute to making a difference.
They are our heroes… principals, teachers, cooks, nurses, orphanage staff, security teams, bus drivers, etc. They are effective, hardworking, wise, and resilient! In all things, they rely on the strength and protection of God.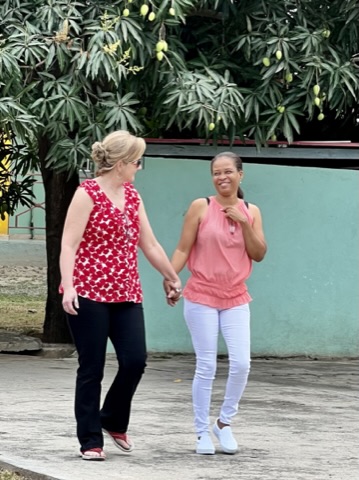 The results are in the transformed lives of the children. For the past 28 years, we have seen remarkable results! Many children are now serving as principals, teachers, preachers, electricians, plumber, cosmetologists, etc. From Kindergarten through graduation, children are reminded constantly they are valued, loved, and capable of reaching their goals. While they reside in a country where opportunities are few, children are still filled with HOPE that with God's help, they can contribute to making Haiti a better place for their families and the next generation.
Walking hand in hand can bring about lasting change. While talking with our Haitian leadership team last week, they said "Please tell the donors that we pray for them and are so grateful for their compassion, support, and prayers.
Without them, we could do nothing." I have been working with HFHC for 17 years and there is no doubt this is the most difficult season that I've seen them walk through. But what I know is the children are in good hands with these heroic leaders who remain resolute. So thank you supporters, for helping to empower these capable leaders and for your investment in the children, who are Haiti's future!
There is HOPE for Haiti's Children!